Community fundraising is an important part of our work in many ways, we always appreciate receiving support from local community groups such as Rotary Clubs, Schools etc, as well as receiving support from community events that take place such as agricultural shows and summer fetes.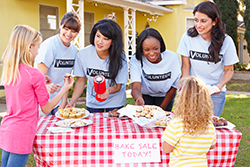 This support is vital to us as we receive no government funding, we are entirely dependent upon the community spirit coming together for local disabled children and their families who urgently need our help.
Please see below for more information for community groups, community events and schools.