Autumn 2020 Charity Skydive
September 27 @ 8:00 am

-

5:00 pm

£550.00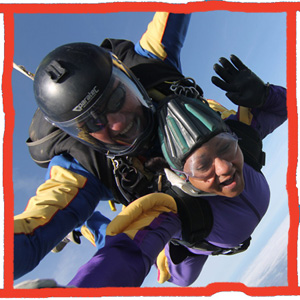 Autumn Charity Skydive
On Sunday 27th September 2020 supporters will don jump suits and climb to 12,000 feet in an aircraft over the Kent countryside before taking the leap of a life-time.
The jump involves freefalling for around 30 – 40 seconds before the canopy opens. You will then spend around five minutes enjoying the ride and the views before landing back at Headcorn Airfield.
It is a tandem jump, so you would be strapped to a qualified instructor and all tuition is given on the day.
To take part in this exhilarating experience participants are asked to raise £550, which includes all jump cost. The profits go directly towards the Children's Respite Trust's important work of providing respite for disabled children and support for their families.
Safety
The sport is governed by regulations from the British Parachute Association (BPA). For safety reasons our general weight limit fully clothed is 86kg (13½ stone). However, this limit is proportional to height.
A lower weight limit of 80kg (12st 9lbs) applies to someone who is 1.57m (5' 2") or shorter. However, if you are 1.72m (5′ 7″) or taller; our absolute limit is 92kg (14½ stone).
You will be weighed during registration. We reserve the right to refuse your jump if you exceed these limits and any money paid will not be refunded or transferred in these circumstances.
You must be at least 16 years old.  Under 18's require written parental consent.  Everyone must sign a declaration of fitness, anyone 40 or over must have this signed and stamped by their GP. There is no upper age limit.
The Spring Charity Skydive is weather dependent and needs no solid cloud between landing area and aircraft and wind no more than 20 knots. Remember when booking, you must be available for the whole day to make the most of weather opportunities.
It may be unsuitable first thing, but improve later on. If the weather prevents you from jumping you must come back within six months or you will incur extra fees.
What does the day involve?
Upon arrival go to the Tandem Skydive Meeting Point to register. You will be given the opportunity to book a cameraman to jump with you (at an additional cost). Then on to the office to fill out your paperwork and pay any balance and when everyone is booked in you will receive a briefing normally lasting between 30 and 45 minutes. Provided the weather is suitable you are then ready to jump.
Why does it take all day to jump everyone?
Headcorn operates one aircraft at a time and we may have forty people booked to jump tandem with up to eight instructors available. Each instructor will jump four or five people and have to pack his parachute between each jump. We cannot jump more than four tandems at a time.
How do I book?
Call the office on 01825 817417 to book with a £100 non-refundable deposit. This can be paid by your sponsors through an online sponsorship page, but your jump is not secured until that first £100 is received by the Charity. The total that we ask you to raise is £550.
On the morning of the spring charity skydive the remainder of the money is payable if it has not been paid over in advance through an online sponsorship page.
Can I set up an online giving page?
Yes. We use Virgin Money Giving (they take less of the monies raised than others). We can set this up for you – we just need your name, address & email.
Can I bring Spectators?
The airfield is open to the public and there is a canteen on site. The landing area is off limits. Spectators are welcome, but facilities for babies and young children are limited. Please bear in mind there can be a lot of waiting around.
Alcohol and Drugs
The consumption of alcohol is prohibited prior to jumping and until parachuting has finished for the day.  Anyone suspected of being under the influence of alcohol or drugs will be refused their jump and forfeit their fee.
Classification: Domsetic Challenge Event