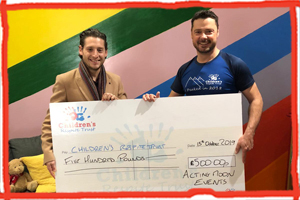 The Trust are extremely grateful for the continued support received from Renato Pires and his team at Acting Moon Events.
Renato recently attended the Respite Centre here in Uckfield and presented the Trust with a donation towards Phase 2 of our building works which are due to begin shortly.
Acting Moon Events also attended our 2019 Masquerade Ball as Living-Statues for our guests to enjoy upon their arrival at the event and during our Drinks Reception.
The Trust looks forward to working with Renato and his Team again soon.