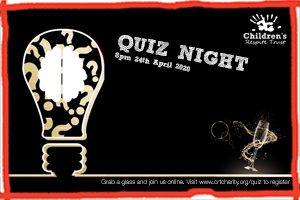 Sadly, the Trust's Prosecco Party has become one of the many events to be cancelled due to Covid-19, but we can still get together online and get quizickle .
Friday 24th April was going to include prosecco, fine dining, more prosecco, a Queen tribute band and more prosecco. More than that it was going to mark the launch of the Charity's 10 year anniversary celebrations.
However, we can still get together and have fun. We will now be holding a quiz night instead, where we encourage you to grab a glass of your own prosecco – or whatever your poison is – and join us for brain-teasing fun.
Visit our event page for more details and to register.