Cristian is one of many children whom the Trust is helping whose disabilities stem from difficulties at birth. He was starved of oxygen during birth which resulted in seizures and a stroke shortly after delivery. He remained on a ventilator in the special care unit for 10 days.
Cristian's mum, Franzi, explains: "it was a difficult time for both of us. You don't expect to have complications during labour and for your baby to develop special needs.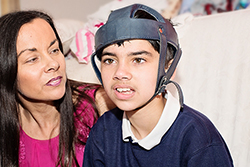 The following January I noticed he wasn't developing correctly; his left hand was constantly in a closed fist, he had a squint, he developed reflux; he wasn't holding his head properly and was generally very floppy.
With the amount of brain damage he'd accrued I knew in my heart that he had cerebral palsy. A later MRI scan confirmed the brain damage that had occurred during his delivery and a diagnosis of cerebral palsy and left hemiplegia was confirmed.
I fought like mad to get the specialised treatments that Cristian would need to help support him in his life; Portage, physiotherapy, speech therapy and occupational therapy. We spent our lives at Pembury Hospital for the first few years of his life with twice weekly appointments.
Over the last 14 years I've strived to achieve the best I can for Cristian to give him a chance to lead as normal life as possible. It's very challenging at times as I have 3 other children also.
Three years ago just days after my second daughter was born Cristian experienced his first "tonic clonic" seizure lasting nine minutes; very frightening. He has regular seizures now, which makes it very tough to go out with my children as he can have one at any time and he's not able to tell me when it's coming and generally he falls injuring himself."
Like many of the children we support, Cristian would greatly benefit from having the chance to enjoy a week's stay at a respite centre to help him learn important life skills, to become more independent, to be with like-minded children and to have fun in a safe environment. Our thanks go to all of the supporters who are helping us to achieve this for Cristian and his family.