When Josh's mum, Julie, first told us about her family, it sounded much like any other. Full of smiles she told us about her husband Roger's career in the police and her daughter, Verity, who was home from University of whom she was clearly so proud.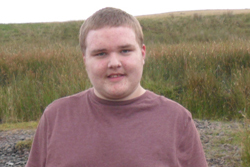 Julie sounded enormously proud of Josh too, but also explained how his severe autism and learning difficulties are impacting on the whole family. Josh interjected from time to time wanting to go for a ride in the car or to have a go on his swing. "car, car!" he would call out. Julie described how he needs such attention and stimulation 24 / 7, without which he becomes agitated and often even violent.
Although Josh speaks like a toddler and has the mental age of a four or five year old, he is now 15 and a big 15 year old at that. For Julie and her family that means contending with a strong and unpredictable adolescent prone to the sort of behaviours of a very young child. It's exhausting and means that going out as a family is simply not practical.
In fact Julie explains how most things that normal families do are not practical through fear that Josh might damage property, hurt someone (usually Julie) or even hurt himself.
Respite can really help a family like Josh's and among the many families we are helping at the moment, we really want to be able to get Josh a good break in a centre where he can receive the kind of support and stimulation he really needs, while Julie and Roger can spend a bit of time giving their daughter a some much needed attention.