Jane is a devoted mother to her two children: Daniel, who is five and seven year old Tilly. Both are full of fun: Daniel, with his love of football and Tilly with her drawing and colouring, but when Tilly was born, she was also diagnosed with Downs Syndrome.
However, Downs isn't the only condition that Tilly suffers with. By two she was diagnosed with having Autism and a developmental delay.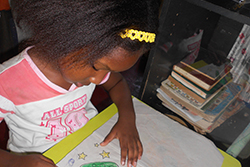 Jane explains "She needs help with pretty much everything. She uses her walker for getting about mostly, but when she is very tired needs to resort to her weheelchair. She has a beautiful spirit, but because of her learning disabilities she can be really challenging. I have to remind myself that she is a seven year old girl, who gets frustrated being in her disabled body."
Challenging behaviour is often seen as a child just being naughty, but Jane understands that it comes as a result of her disability. It can be particularly hard for parents to cope with though, as others will often judge without knowing the full facts.
Tilly's challenging behaviour comes out at night a lot, when she can't sleep. Jane explains that this causes her and the rest of the family to be tired, which then exacerbates the problem. "It sometimes feels like a vicious circle, if she's tired and I'm tired, so we end up not coping well the next day and so it goes on."
The Trust has managed to help Tilly's family to get a little support from the statutory services, but would really like to be able to provide more. A break on a regular basis at an activity or club would mean Tilly is getting the stimulation and exercise she needs to relieve some of her frustrations, while Jane and Daniel can spend some time together or simply get a chance to catch up on some much-needed rest.