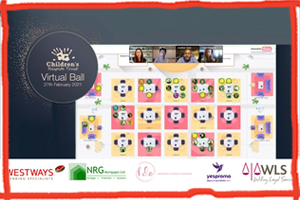 We are pleased to announce that we are hosting a Virtual Ball on Saturday 27th February 2021 and would love for you to join us.
If you are a supporter of the Trust, you will know that our annual Masquerade Ball is a true highlight in the Eastbourne social calendar and a vital part of our ongoing fundraising each year. Unfortunately, with the current pandemic we have been unable to hold our 2020 Masquerade Ball but instead are trying something new and are hosting a Virtual Ball in February!
As usual, all proceeds raised will be going towards the important work of the Children's Respite Trust.
We want to capture some of the Charity's usual traits and will do our best to ensure the virtual experience is the best it can be.  Due to the nature of the event we have no limitations on numbers and anyone, anywhere will be able to attend!
The event will take place on REMO and will last approximately 2 hours.
You will be able to purchase screen-access only to the event for £25 per household or we are offering a three-course meal delivered to your home for an additional £15 per person.
REMO will allow you to sit with friends or family and enjoy the experience as if you were sitting at the table with them.
We will be hosting a Raffle and Silent Auction during the course of the evening and will have live music for you to enjoy.
Each household will receive a "Ball Box" through their door prior to the event to include the evenings Programme and a few "Ball necessities".
Tickets will be able to be purchased online in the next year however for now please email Rachel on the address below and payment can be made via BACS. You will find more information on the event page here.
Should you wish to sponsor the event we are still seeking additional sponsors.
If you would like any further information concerning the event or sponsorship please contact us on 01825 817417 or via email on rachel@crtcharity.org