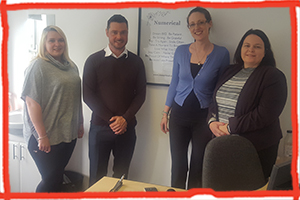 Hastings Bookkeeping firm Numerical are helping the Children's Respite Trust achieve its goals for disabled children and their families. The company has kindly provided their services free-of-charge helping the Charity to move over to a cloud based accounting system.
Trust CEO, Gavin Fisher, said of the move "It will be of great benefit for the families we're here for. Ultimately, we'll be spending less time on administration and more time helping people. As a result, we are hugely grateful to Numerical for their kind support."
Digital-Ready and Transparent
The move means that the Children's Respite Trust has "digital ready" accounting. Many people anticipate that everyone will have to comply with this in the near future. It will also allow the Charity to be more transparent with its funds due to being able to manage them in much greater detail.
The firms services include bookkeeping to a full external finance director role. They say that Numerical will empower business owners to fully understand figures allowing them to make positive management decisions with confidence, financial stability and clarity."
Our sincere thanks go to the team at Numerical for this and for all of their support for the Trust's work across the county and beyond.