Corporate fundraising is a valued contribution towards our work as the business community is always so dedicated to pulling together to raise much needed funds.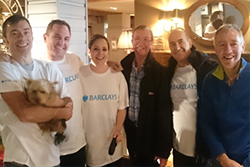 There are many ways that local businesses support the Trust, for example, some choose to become a sponsor of an event and get involved with promoting the event in return for promotion of their brand, some choose to select the Trust as their charity of the year and raise money throughout the year by organising challenges/events within their company and many other ways that you can see below.
This support is vital to us as we receive no government funding therefore we are entirely dependent upon the business community coming together for local disabled children and their families who urgently need our help. Please see below for more information on ways your company could help raise funds for families to receive that extra support and respite that they deserve.