What is Respite?
Respite takes many forms. For most of our children our charity work means regular support at home from a Children's Respite Trust Carer. For others it involves attending a regular activity out and about, or now it can mean a day session at our new East Sussex Children's Respite Centre.
Either way, it means that families can get a much-needed break from the strain of caring for a disabled child 24 hours a day, and here at the Children's Respite Trust we understand that living with a disabled child brings with it constant strain.
We understand how difficult it can be to achieve things that everyone else takes for granted like having a rest or dedicating some time to your other children.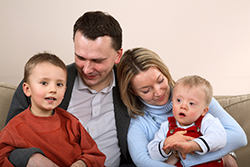 The Trust can help you:
Provide advice to help you get the support to which you are entitled from your local statutory authority
Have support at home from one of the Trust's registered carers
Have your child attend a regular activity, so that he or she is having fun while you get a break
Attend a day care session at our new respite centre in Uckfield
For more information and an informal chat, call us on 01825 817417 or email us in info@crtchairty.org