One of the most successful forms of fundraising is the 'Charity of the Year' where a company will choose one charity to 'adopt' who will receive all of their support for a given period.
It is a great way to focus resources and a good reason to say no to others. Like all corporate fundraising the Charity of the Year adoption can provide PR both externally and internally, galvanising the enthusiasm of staff and encouraging team work.
The activities taken on by the company to support the charity can vary dramatically and do not necessarily have to affect the company's bottom line, as often it will be staff who take on the role of raising the funds. Most companies will put some funds forward though as a means of supporting their staff. For example they may match the total raised by staff up to a pre-agreed level or they might put a contingency fund forward for their staff to use to hold fundraising events.
Activities your company can arrange: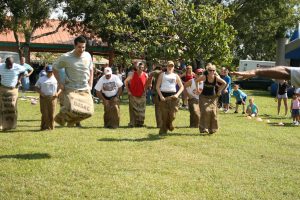 Staff taking part in challenges such as skydives and marathons
Creating a company Sports Day
Collection tins in reception and the staff canteen
Having a company BBQ or picnic and inviting other local businesses to join in 
Dress-down days
Some companies will organise their own events to engage with the wider community