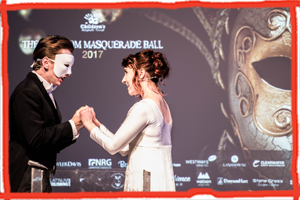 Thank you so much to everyone who attended our Phantom of the Opera themed Masquerade Ball on Saturday Night. We're delighted to reveal that the final total was a fantastic £53,695. That's more than ever before and we're looking forward to putting it to very good use for the benefit of disabled children and their families locally.
The night began with a drinks reception accompanied by local pianist Peter Wilson and magician Justin Saul. Many guests who chose not to wear masks went for glittery face-painting instead, which was generously donated by Vicky Regan of Rix and Kay. Guests then entered the banqueting hall for dinner with entertainment by a dance troupe from Bexhill College, singers from Brighton Academy and a spectacular acrobat from Acting Moon Events.
Guests took part in Heads and Tails to win tickets to Phantom of the Opera in the West End which was led by our Compere, Heart FM's Lynsey Bartlett. This was followed by a spectacular balloon raffle with prizes including a beautiful pendant and earing set by Clagau which was generously donated by W Bruford Jewellers, a stay at the Lansdown Hotel with dinner, bed and breakfast kindly donated by the Best Western Lansdown Hotel and dashing men's suit kindly donated by Dobell.
We are very grateful to the family who so generously let us tell everyone about their story in a video by Professional Video Services, so that everyone could understand how the money is used. And everyone got to see how much was being raised throughout the evening thanks to PRG Marketing Communications' fabulous totaliser.
After dinner our auctioneer, Con Cronin from Pure Protection, took bids on holidays to a castle in Scotland and a villa in the Algarve, as well as a trip to the West End to watch Phantom donated by Club Class Chauffeurs, a Chelsea FC presentation piece and tour of Stamford Bridge donated by David Byrne of Haskoll's Insurance and session in the Heart FM studio with the Breakfast Show team. Eastbourne MP Stephen Lloyd joined us on stage to auction off his prize of a tour of the Houses of Parliament with afternoon tea and transport arranged by local taxi driver Don Tester. Other auction prizes included "It's a Knock-Out" for ten people from Amazon Events and a sumptuous dinner party in your home by professional cook Pauline Turner of Food for Comfort.
Guests had a chance to play on the Lady Luxe casino or they could roll the dice for a chance to win a Suzuki S-Cross, generously provided by Eastbourne Motor Centre. Or just dance the night away to the Big Kahuna.
Our sincere thanks go to everyone who has helped to make the event possible not least our Ball Committee who have given up so much time to organise the Ball: Linda Baker of Westways Vending, Simon Groves of PRG Marketing Communications, Loreen McKeon of Eastbourne Chamber of Commerce, Carol Nyahasha of Lilly & Lavender Events, Victoria Regan of Rix & Kay Solicitors, Maxine Reid of Kreston Reaves LLP, Paul Roskilly of RSE Group, Lucy Wells of Bexhill College.
We're hugely grateful to the evening's sponsors: Teamworx Group, ASPRAY, Chapter 12 Wine Bar, Dawson Hart Solicitors, W. Bruford Jewellers, Lawlerdavis Independent Financial Planners Ltd, NRG Mortgages, Bea-utiful Design & Print, Watsons Assosicates, Clearwater Safety Solutions, Westways Vending, Ambience Catering Solutions, RJG Building Contractors, Dental Barn, Lansdowne Hotel, McCarthy Webb, Domsalla Building & Construction, Kreston Reeves, Handelsbanken, PMA Scaffolding, Stone Cross Nurseries, Platinum Publishing Group.
All of our wonderful volunteers who have helped the throughout evening and the day were amazing including the Hailsham Rotary Club and our inimitable Stage Manager, Martin Crawford-Jones and Treasurer Kate Manser.
Thanks also to Simply Beautiful Print who designed and printed all of the materials including the spectacular stage set, Chris Jenkins for the stunning PR photographs, Lilly & Lavender Events who took care of all of the décor, NX Photos for the portrait photography and Balloon providers Balloons for Events.
We're very grateful to everyone who donated prizes including Andrea Birch, Jane Mather Make-up Artistry, Buxted Park Hotel in Uckfield , Mid-Sussex Golf Club, Shirley Price of Yes Promo Products, the Bloom Factory, Sally Wooller, the Spice Garden in Eastbourne, Carrot Events, New Art Gallery in Alfriston, Chatsfield Jewellers, the Brighton Gin Club, the Treacle Mine, Mayo Wynn Baxter, Seddlescombe Vineyard, HA Quads, Bibendum, Deliciously Gorgeous, Simply Italian, Horsted Health Club, office planters and the Grand Hotel in Eastbourne.
Our hosts the Winter Garden did us proud and finally we just want to say a huge thank you to all of our guests who were so generous on the evening to help us get to that wonderful total – we'll do our best to use it really well, so watch this space.