Sam is a lively child, full of smiles and fun. He is into His music, trains and loves reading like any other eight year old boy, but when he was born it was obvious to his mother, Julia, that something wasn't right.
Julia explains "Everyone was trying to be calm and re-assuring, but they were clearly concerned. They didn't hand him straight to me the way they do on the TV."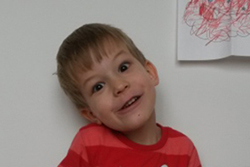 It is thought that Sam's umbilical cord may have been damaged.
Sam's muscles didn't develop as they should do and he was prone to twitches and jerks. When he was 18 months it was clear that he wasn't hitting any of his milestones and after numerous tests and scans the family eventually got a diagnosis of Cerebral Palsy.
"It was like a hammer blow. All the dreams I'd had for him seemed suddenly dashed. They weren't of course, as it is not a progressive condition, but I knew nothing about it and so spent what seemed like an eternity find out about the condition."
By the age of five Sam had also began to have seizures. Now aged eight, Sam is having regular seizures and needs support to do most things, including feeding and dressing himself.
"he still needs so much help with everything and always will, but the most draining thing is always being alert. You just never know when he might have another seizure."
Julia is worried that it means she never has time for her other son, Ollie, who is a couple of years older than his brother and getting to a tricky age at school.
"I just want to be able to be there for him a little more, so that he can turn to me when he has problems. My biggest nightmare is that he feels I'm too busy with Sam for him. He might turn to the wrong people."
When Julia came to the Children's Respite Trust, she asked whether there was somewhere that Sam could stay while she had a day of "Ollie and me time", as she called it. The Trust's caseworker, Helen, began by writing to her social worker to request some state funded respite. Several phone calls, meetings and letters later, Julia's family were finally granted a day of respite each month. While that was a great result, the Trust felt that just a little more support could go a long way and so, thanks to the support of the local community, we have been able to provide an additional carer for a day a month too.
"Obviously, it feels terrible to want to have someone else look after your child and I feel guilty looking forward to those two days each month, but it makes such a difference for Ollie. He is definitely benefitting from it and it is great for Sam to have that variety too: having someone who can dedicate all of their attention to him for the time they are together, so that it is all about having fun, rather than coping."