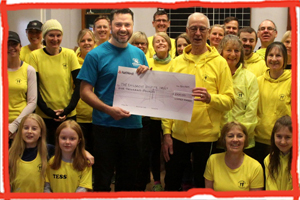 On Saturday 23rd November 2019, Peter Wilkes Chairman of the Uckfield Runners presented a cheque of £1,000 to the Children's Respite Trust.
The members of Uckfield Running Club pay £1 each time they run and over the course of the year their pounds soon add up. The Trust were very grateful to have been their chosen Charity this year and to have received the donation of £1,000.
The Uckfield Runners meet on a Monday morning at 9.30am (term-time only) as well as on a Tuesday at 7pm and Thursday at 7.30pm all at Freedom Leisure Centre, Uckfield.
Thank you to Ron Hill for the photograph.