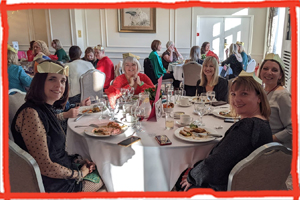 Throughout 2022 the Trust has been supported by The Athena Network South East region, a ladies only networking owned and managed by the lovely Julie Eltham. Rachel Wood, our Events Fundraising Manager is a member of the Crowborough group.
Over the year the Trust has received support from various members of Athena in many ways to include individual businesses sponsoring our events, prize donations, attending events, taking on challenges and helping out at the Respite Centre.
In October not only did Julie attend our "National Prize Wrapping Day" where we wrap approximately 50-60 raffle prizes donated for our annual Masquerade Ball, she also completed over 100 miles of walking for the Charity during October, raising over £600.
The Trust is also fortunate to be a beneficiary of the Athena Christmas Raffle and Christmas games at the annual Christmas Lunch.
We believe that no family should be left to care for a disabled child alone and we support many families throughout Sussex and Kent by offering respite care at our Centre in Uckfield and also in their own homes. One Support Worker, working one day per week would cost the Trust approximately £5,000 per annum and would be able to care for 2/3 families each week.
During 2022, Athena have raised just over £3,000 for the Trust which means that we have been able to help additional families in need of our support over the year and for that we are extremely grateful.
Thank you so much to everyone at Athena for their continued support, we wish you all a wonderful Christmas and Happy New Year.