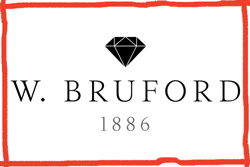 W Bruford Jewellers in Eastbourne are ensuring this year's diamond themed Masquerade Ball will be a real jewel in Eastbourne's calendar of events.
Established for over 100 years, W.Bruford is justifiably proud of its reputation for exceptional service, exclusive choice and attention to detail. Based in distinctive premises in Cornfield Road, Eastbourne, W.Bruford is a family business that offers the finest jewellery, watches and gifts from acclaimed design houses from all around the world.
The Charity's Chief Executive, Gavin Fisher, said of the news "We're delighted to have W Bruford on board once again. They have been involved with the Ball for several years and their continued support means a great deal to us."
The Masquerade Ball will be held at the Winter Gardens in Eastbourne on Saturday 12th November. Full details can be found at www.crtcharity.org/ball.