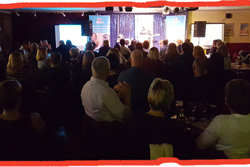 Thank you so much to everyone who made possible the fantastic Comedy night on Friday 12th February. We're delighted to be able to announce the final total raised of £2,895 – The most we've ever raised at a comedy night!.
Around 160 people joined us to see three fantastic acts in the shape of Jake Lambert, Drew Cameron and Richard Morton and compered of course by the inimitable Jim Grant.
We're very grateful to our sponsors CBL Fastenings, Switchplane Ltd, NDC Cleaning, Parade Bowls Club and Asprey (Tunbridge Wells). Also to Bea-utiful Design and Print for designing and printing everything bea-utifully, Oi Oi Comedy and of course our hosts for the evening at Eastbourne Borough Football Club and Langney Sports Club. We were all well catered for by the Ambiance Kitchen.
There were some stunning raffle prizes including a fantastic camera donated by Mark Vine, a hand-made crystal and pearl necklace from Julie Coe, an enormous hamper from Annette Ackland of our good friends at Embraces. There were prizes from Horam Golf Club, PES Ltd, Eastbourne Borough FC, Sarah Tate Photography, CBL Fastenings, Sam Churcher and Stackhouse Poland.
This one sold out about three weeks beforehand, so look out for the next one on 23rd September – and book early. You might also want to look out for "Blind Date", which is also to be compered by Jim Grant at the same venue on 7th May and which is being held in aid of the Trust.
A special thanks goes to our Ambassadors Derek and Helen Blaney for their continuous support organising the event and of course to everyone who came along.