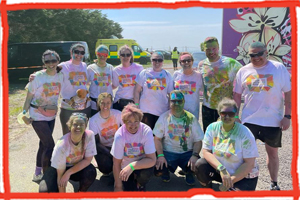 For the Trust's first time at the Colour Rush we were able to gather a big group of excited participants ready to take on the challenge. All 17 of the runners finished the testing 5K course and were much more colourful then when they set off!
The crazy route at Brighton Racecourse took the group over a wide variety of obstacles that involved climbing, diving and jumping all covered in colour and even some foam. Participants were motivated by the multiple music stations and the spirit of competition.
Thank you so much to the incredible fundraisers from the Teddy Bear Run and Victoria and friends. The team raised an amazing £1,074. Everyone had a fabulous time while raising vital funds for the Children's Respite Trust.
If you are interested in taking part next year you can register your interest with rachel@crtcharity.org