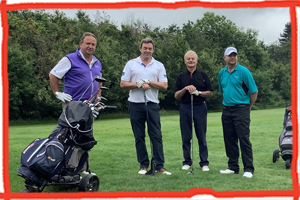 We are delighted to declare the Trust's Annual Charity Golf Day a swinging success. Held in association with Simple Safety Advice, the event raised a fantastic £3,000 – thank you so much to everyone who attended.
The Winners
The winning team was led by Clive Tappenden and the individual winner was J Williamson, from the Tileex team. Our Longest Drive winner was Rob also from Tileex and Nearest the Pin was won by Grant from NRG. The Team runners up were Tileex and Roselands Plumbing and Heating, both with the same scores. The individual runners up were S Burgum in second place and in third place D Russell.
Thank You
Thank you to all of our teams for their participation, buying raffle tickets and for bidding in the Silent Auction. We are very grateful to everyone who sponsored holes including Brewin Dolphin, Summit Environmental, Print Matters, Roselands Heating, Clarity Homes & Commercial and Quantum Digital. Also to everyone who donated prices to our raffle and of course to Sweetwoods Park Golf Club for their hospitality.
Organisers declared the Charity Golf Day a swinging success raising a grand total of just over £3,000 for the charity. It will make such a difference to our ability to help families with disabled children and continue to help the Trust grow.
Keep in touch
To be among the first to hear about our 2022 Charity Golf Day and all of the Trust's other fundraising activities, please keep an eye on our events page.