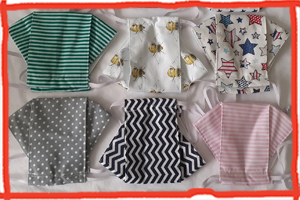 Children's Respite Trust volunteer, Anne-Marie Prescott, is kindly producing handmade face masks to sell for the Trust.
Seamstress Anne-Marie, usually produces wedding veils, but has turned her hand to making masks to raise money for the Charity. She says "So many charities have struggled over the last few months and I fear that some of the smaller ones may not be able to continue. I am a volunteer for the Children's Respite Trust, an Uckfield based charity that works to improve the lives of children with profound learning & physical disabilities. I am saddened that the day care centre cannot be open and filled with laughter from the children that visit. So, I have decided to make some face masks to help raise some funds."
The masks are available for £6 each or three for £15 and are available in a range of materials. All handmade face masks are available online via the link below.
For details of Anne-Marie's stunning wedding veils visit www.bespokeveils.co.uk

See fundraising