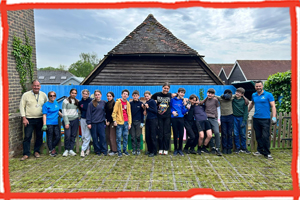 Holmewood House have a long standing relationship with the Children's Respite Trust which we are incredibly grateful for. Every year a group of young people dedicate a day of time to help out at the centre as well as get an educational experience on the impact of having a disability.
This time the students got involved in helping prepare the outside space. We're so grateful for all of their hard work helping to create a grassed area outside for our children to enjoy. With the Little Stars (under-fives) cohort growing, it has become even more important for us to have an outside play space, so this really has become a vital project. Outside play is critical for development especially in early years as it expands learning opportunities, builds independence and aids skills such as balance.
The care team put together a few experiences for the students that would replicate some of the challenges faced by those living with a disability or impairment. It was particularly gratifying to see the children so engaged in these activities and gain  understanding of some of the vulnerabilities those with additional needs can feel.
Holmewood House also support the Trust with their second hand uniform sales. The generous donations over the years have supported multiple projects such as the sensory room, the lift at the centre and support workers.  These project have all had an amazing impact on the disabled children and families we support and so we are so grateful of the continued support.