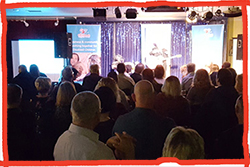 Comedy-goers are preparing for another night of laughs at Langney Sports Club in Eastbourne for the Children's Respite Trust Charity Comedy Night.
The line-up is complete and tickets have gone on sale. Canadian funnyman Sean Collins will headline and opening will be Rich Morton, back for a second time after he brought the house down on his last visit. We will also be joined by Wilson Milton, here for his first appearance and the evening will be compared by the irrepressible Jim Grant of Oi Oi Comedy.
Our thanks go to sponsors Summit Environmental, CBL Fastenings, WPA and Athena Sussex for their support.
Head on over the to the event page for more information and tickets and join us on 9th September for Laughs at Langney.