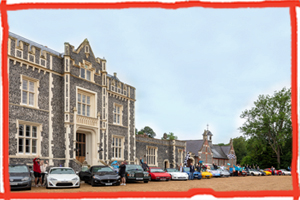 We are delighted to announce that entries for the 2022 Racetrack Run are now live.

We were joined by car enthusiasts from across the region for the Launch event led by Councillor Ron Reed, Chairman of Wealden Council, at a ceremony at Folkington Manor.
Cars attending ranged from family saloons to supercars and classics. Several people embraced the racetrack run spirit by wearing fancy dress. We had a Princess, a Stig and some Ghostbusters among others.

Entries to the Run cost £185 per person including accommodation, breakfast on day one and dinner on the Saturday. Check out our event page for full details.
Guests heard about plans for prizes for the best dressed car and the biggest bug splat! People taking part in the Run will be able to enjoy breakfast at Goodwood before heading off around the country. Many people at the launch were excited to hear about the celebratory black tie dinner near Silverstone on the penultimate evening.

Our sincere thanks go to Harry & Jacquie Brunjes for enabling us to use such a stunning location for the launch. We are also grateful to the Teddy Bear Run who brought along so many beautiful cars. Finally, we want to say a huge thank you to our amazing sponsors without whom, we simply couldn't hold the event: AFH Payroll, CPL, From To Translations, Hero Plumbing and SLP Accountants