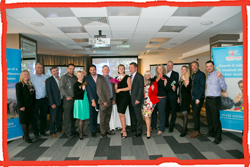 Tickets are now officially on sale for the 2016 Children's Respite Trust Masquerade Ball.
At a special edition of the Trust's regular Ambassadors' Receptions, Ball sponsors joined with Ambassadors to hear an update of the Trust's progress over recent months and to officially launch this year's Ball.
With 20 sponsors getting behind the event, the Masquerade Ball already looks set to be bigger and better than ever before. Last year's Ball raised a fantastic £18,000 in profit which all went to the Trust's important work of providing respite and support for the families of disabled children in Sussex. This year's total could well beat that, as the Trust looks to grow the event at its new location of Eastbourne's Winter Gardens.
There was a flurry of ticket sales and within 24 hours of the launch 236 tickets had already been sold.
The Trust is very grateful to everyone who is helping to make this year's event possible, not least the remarkable Ball Committee and all of the generous sponsors.
To find out more about the event or to buy tickets visit www.crtcharity.org/ball.