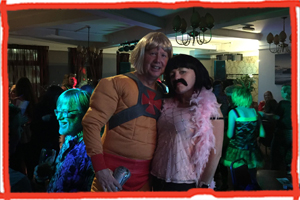 Last Friday we were taken down memory lane with the Jackson 5, Tiffany, Queen and of course no 80's Night is complete without glow sticks and rubix cubes!!
Thank you so much to The Crown & Anchor, Eastbourne, to DJ Nick Betts of Level Eleven Entertainment, our Ambassadors Derek and Helen Blaney and to everyone who supported the Trust by purchasing entry and raffle tickets.
We are also very grateful to the local businesses who donated raffle prizes- Sarah Allen Skincare & Makeup, SLM Sports Therapy, Callendars Restaurant and Boots. Congratulations to those of you who won!
Everyone looked amazing in their outfits! We had the Ghostbusters, He-man, George Michael but it was Freddie Mercury who won the "Best Costume" Prize!
An amazing £1,400 was raised and we are very grateful to everyone who made the event such a huge success.
The money will go towards the work we do providing respite for disabled children and support for their families throughout Sussex, parts of Kent and Surrey.