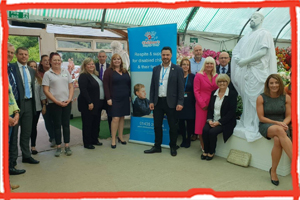 We were delighted to welcome sponsors of the Children's Respite Trust's Masquerade Ball to a special Ambassadors' Reception at Stone Cross Garden Centre yesterday evening. The reception marked the Launch of this year's Ball.
Tickets officially went on sale at 6.30pm yesterday evening and we have already sold half of the allocation. So we urge you to snap them up quickly at our ticketing page.
Our sponsors this year include LawlerDavis Independent Financial Planners Ltd, NRG Mortgages Ltd, McCarthy Webb Solicitors, W. Bruford, WestWays Vending, LMDB Accountants, Simply Beautiful Print, Stone Cross Garden Centre, Yespromo Branded Gifts, Aspray Tunbridge Wells and Clearwater Safety Group Ltd.
Stone Cross Garden Centre kindly hosted the launch. Everyone enjoyed their generous hospitality amid living statues provided by Acting Moon Events.
We look forward to welcoming you to this year's Masquerade Ball on Saturday 12th October at the Cavendish Hotel, Eastbourne.
For more information, visit our event page at www.crtcharity.org/ball