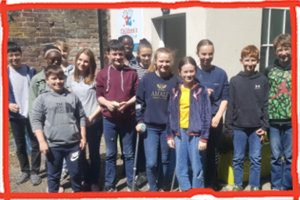 Year 8 pupils from Holmewood House School, Tunbridge Wells, visited the Children's Respite Trust on Tuesday 14th May 2019.
Fourteen pupils aged 12 and 13 visited the Children's Respite Centre in Uckfield and assisted with various tasks to help prepare sensory resources for our children's holiday sessions. They made colourful slime, created kinetic sand, play dough and also painted the garden fence.
Some of the children also helped to prepare and wrap raffle prizes for the Trust to use at an up and coming fundraising event.
Holmewood House School have raised over £7,000 to help fund the Trust's lift and sensory equipment through their second-hand uniform shop. This is an amazing amount of money and everyone at the Trust is extremely grateful for their support. This will go a long way to helping with the lift improvements to the Centre and purchasing some new sensory equipment.
Mr P Morgan-Jones, Senior Master at Holmewood House who accompanied the children on Tuesday to the Centre said "It was a privilege and pleasure to bring some of our Year 8 pupils over to Uckfield to see the great progress being made at the Centre. The pupils had a wonderful time and it was great to see them so engaged in the various activities they were undertaking. Hopefully it will be the first of many visits."
Gavin Fisher, Chief Executive of the Trust, said "It was a pleasure to welcome the students to the Centre and for them to see first-hand how the funds they have raised are being put to good use. We are hugely grateful for all of their help on the day and look forward to seeing some more pupils soon".