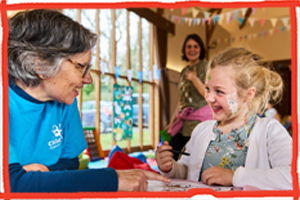 We kicked off the school holidays with the Children's Respite Trust Easter Extravaganza which was jam packed full of fun. We celebrated with a get together for all the families we support at High Hurstwood Village Hall. The afternoon of Easter entertainment was filled with an abundance of activities, games and copious amounts of cake.
The seemingly infinite activity stations to choose from meant that there was something for everyone. The options ranged from Easter crafts, cookie decorating, games and sensory play. The cookie table was especially popular with children (and parents) layering on the icing and sprinkles. A massive thank you to Erin, the community champion from Crowborough Morrison's who generously donated the tasty treats.
Fran from Wriggles and Giggles did a fantastic job of making sure everyone looked the part with the face painting area which was busy throughout the whole afternoon. The star feature of the event was obviously the egg hunt which had everyone searching both inside and out. The busy hunters were quickly rewarded with a visit from the Easter bunny handing out chocolate eggs or toys.
If all this excitement wasn't enough there was also various games of pin the tail on the bunny, playing in the park outside and an exceptional Easter bonnet competition. Due to the overwhelming talent on show it was decided that all those that entered would be awarded so were presented with bunny balloons that were clutched adoringly.
Overall the event was a resounding success and we really loved the opportunity to get to share the Easter egg-citement with as many of the families as possible. It was great to see families socialising, children playing and everyone enjoying the loaded cake table. This was made a reality by the amazing community that supports the Children's Respite Trust in all forms. We are especially grateful for the volunteers that turned up on the day so thank you to Anna, Emily, Jules, Jo, David, Vicky, Dan, Julie, Sue and Harry!
At the Children's Respite Trust we believe in supporting the whole family so would love the opportunity to host more events like the Easter Extravaganza. If you have any ideas or you think you can help please let us know.