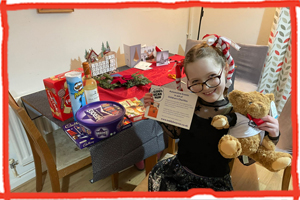 The Trust is extremely grateful to the Teddy Bear Run for supplying and delivering Care Packages to our children and their families during December 2021, prior to Christmas.
After another tough year for everyone we were so happy that our families were able to receive these amazing care packages funded and put together by the Teddy Bear Run.
The Teddy Bear Run Team certainly had their work cut out delivering 101 packages and 28 large teddy bears across the County to a number of local hospitals, schools, Sebastian's Action Trust, a charity in Hampshire and of course our families here at the Children's Respite Trust.
Thank you so much to the Teddy Bear Run for your continued support- you are truly awesome!