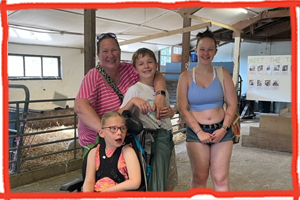 We were delighted to welcome our families to Middle Farm, Lewes for a family picnic this week, kindly funded by the Anne Bickmore Children's Fund.
Children were able to enjoy visiting the sheep, chickens and many more and even got the chance to feed some of them.  As well as enjoying the time spent with the animals, some of the children also let off steam running around the hay barn while parents chatted. The scavenger hunt was a great way for new friends to bond and was lots of fun looking around the farm yard. After all this excitement, the day was finished off with an essential stop at the café for an ice cream.
We love hosting days like this family picnic, as its a fantastic opportunity for all the family to get out together with the reassurance that than extra pair of hands is there if needed. Families are able to make amazing memories within their own family as well as the wider CRT community.
We'd like to say a huge thank you to everyone who came, including Anne and her team from the ABC Fund and to Mark at CWJ Landscapes for recommending the Trust.