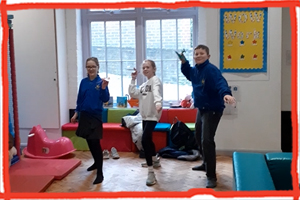 Thanks to our generous supporters, the Children's Respite Trust has been able to grow our Sibling's Club into a monthly session. This is having a really brilliant impact on the children's relationships with staff and more importantly each other. Now we know a little more about some of the members we can really focus on their interests to engage them and open up conversation.
After January's session we learnt that one of the children is very interested in World War 2. Their passion for the subject was apparent and they enjoyed sharing their knowledge with the group. Supporting and encouraging hobbies is so important amongst the sibling's as often their interests can be overlooked through no fault of the family. It was decided that in February we would use WW2 as the theme for our next activity. Using a template the children created their own unique spitfire designs. The support workers then helped them construct each plane to finally test out their flying skills.
The mild competition was a great demonstration of the trust and friendships that have been built. The children teased the support workers about their construction of their paper planes, clearly showing their comfort and familiarity.  We strive to make all the children that access the Children's Respite Trust feel part of our community of support and are so pleased that the siblings do too.
In this session we also came up with a name of our worry monster that is a cuddly toy that the children can feed their worries to. The children write down their concerns, feed them to the monster and then zip up it's mouth to alleviate what had been troubling them. After a few sessions the children finally agreed to call him Oreo and he is sure be to a very valued member of the Sibling's Club.