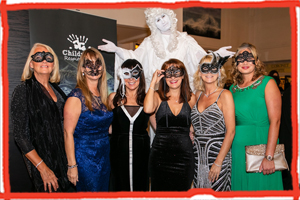 What an amazing night we had on Saturday night at the Masquerade Ball 2019.
We'd just like to say a huge thank you to everyone involved – you helped us to raise over £30,000 towards the work of the Children's Respite Trust. It's a fantastic total and we can do a heck of a lot of good with that.
Drinks Reception
The night started with a drinks reception accompanied by the music of the Eastbourne College Jazz Band. Guests then entered the stunning banqueting hall to be greeted with a performance from the Amazing Cherry Dance, followed by a game of heads and tails conducted by the new Children's Respite Trust Chairman David Beck, with the lucky winner coming away with an Audi for the weekend kindly donated by Eastbourne Audi.
Entertainment
After a delicious three course meal served up by the team at the Cavendish Hotel the entertainment carried on throughout the evening with performances from Acting Moon Events and all ably held together by compere Con Cronin.
The Raffle
The Trust's famous balloon raffle saw the room filled with 600 biodegradable balloons*, which guests burst altogether creating pandemonium. Those taking part had the chance to win over 40 prizes including an amazing Gucci Watch generously donated by W Bruford Jewellers.
The Auction
One of the highlights of the evening was the live auction, which raised over £5,000 led by auctioneer Wes Waller. Auction lots included a Cricket prize from the Trust's Patron Luke Wright, a meal in your home with a professional cook from Pauline Turner of Food for Comfort, several car prizes including a Mercedes for the weekend from Mercedes-Benz of Eastbourne, a Porsche Track Day from Mid-Sussex Porsche and a lotus for the weekend from Snow's Lotus with a stay at a Malmaison Hotel.
Guests were able to bid on some fabulous holidays. Including a weekend in a stunning Isle of Wight holiday home. Also, a week in a penthouse aprtment at the 5* Radison Blu Resort and Spa at Malta Golden Sands generously donated by Loreen McKeon.
Trust Patron Jayne Torvill OBE, who had come along to the event, kindly donated four tickets to the live showing of Dancing on Ice for the auction. Another prize was a fantastic light aircraft flight.
Music and Dancing
The night finished with a packed dance floor enjoying the brilliant Double Tap playing well into the night, while others enjoyed the casino.
Thank You!
Thank you so much to the many people who have contributed to making the night such a success. Not least the following people:
Our incredible Ball Committee: Linda Baker, Kayleigh De Silva, Chloe Eason, Denise Hendrie, Loreen McKeon and Chloe Mornington-West. We'd also like to mention Shelly Cashman and Shirley Price, who both worked tirelessly to get so many prizes.
All of the amazing sponsors: Aspray, W Bruford Jewellers, LawlerDavis, the Clearwater Safety Group, LMDB Accountants, McCarthy Webb Solicitors, NRG Commercial Finance, Simply Beautiful Print, Stone Cross Garden Centre, West End Studios, Westways Vending and Yes Promo Products.
Our compere Con Cronin and auctioneer Wes Waller, whose energy was simply endless.
The relentless volunteers who helped both with setting up during the day and with all of the activities on the night. Including: Ana & Paul Aguilar-Corney, Michelle O'Connell, Pat & Molly Eason, Sam Tricker, Ian Baker, Dawn Harrington and Mrs Mornington West.
Julie Burton and the Office Planters team for the stunning centre pieces for the tables.
Everyone who provided entertainment on the evening. Including our incredible band Double Tap, Acting Moon Events, Cherry Dance and the Eastbourne College Jazz Band.
The portrait photography from NX Photo, videography from Still-Motion and these fantastic shots from Sarah Bennett: https://www.facebook.com/pg/childrensrespitetrust/photos/?tab=album&album_id=3130970000307054.
West End for all of their hard-work on the set and the audio visual installation as well as Simply Beautiful Print, whose design and print was simply beautiful.
Prizes
Thank you to everyone who donated a prize including:
W Bruford Jewellers, John Lewis Distribution Centre of Maresfield, the Lansdowne Hotel, Eastbourne Audi, Mercedes Benz of Eastbourne, Snow's Lotus, Mid-Sussex Porsche, Luke Wright, Loreen McKeon, Food for Comfort, Kumi & Sam's Hair and Beauty, the Sovereign Centre, the Strand Hotel, Nando's, Horsted Heath Club, Alison Brown, Sarah Allen, Bolney Wine Estates, Salon 1THIRTY 4, Hartfields Coffee and Kitchen, Hotel du Vin & Bistro in Brighton, David Lloyd, CrossFit Capacitas, Knockhatch, Head to Toe Holistics, Spa Therapy, Paradise Park, Drusillas Park, Amira's Kitchen, Lingfield Race Track, The Llama Park, the Hydro Hotel, Buxted Park, Michelham Priory, Boots, Asda, Kamsons, Fort Fun, Harvey's of Lewes, Funky Hampers, Chatfields of Eastbourne, Greenalls, Uckfield Waitrose, Lakeland, Frame Works, Tesco, Brighton Zip Wire, Horsted Place Country House Hotel, Princess Nails, The Dental Barn, Lynley's Jewellers and Devonshire Theatres.
A big thank you goes to our hosts the Cavendish Hotel for all their hospitality.
Look out for details of next year's Charity Ball on 7th November 2020.
*Our thanks go to Balloons for Events for sourcing balloons for us from natural biodegradable materials. The balloons were burst indoors and once spent, collected up to be recycled. The Children's Respite Trust does not carry-out balloon releases.