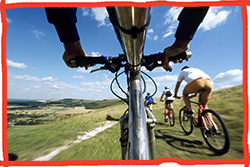 Over the August bank holiday weekend Dan Brindle and a friend will be cycling from Winchester to Eastbourne from one end of the South Downs to the other to raise funds for the Children's Respite Trust.
The intrepid cyclists will journey around 100 miles in three days, stopping only briefly to eat and sleep.
We are delighted that Dan has chosen to raise funds for the Trust through his adventure and we would encourage everyone to visit his fundraising page, which can be found in the Support a Supporter section of the Trust's website.