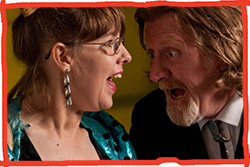 Eastbourne's Hilton Royal Parade Hotel was host to a night of Comedy, hosted by Oi Oi Comedy's Jim Grant on Friday night and raised £123 for the Children's Respite Trust in the process.
The evening, which was headlined by Brian Damage and Crystal, marked the start of a regular new fixture in the town's entertainment calendar. On the last Friday of every month the hotel will play host to a night of comedy and while entry is free the audience is invited to make a donation to the chosen charity.
The Children's Respite Trust is delighted to have been chosen as the official charity for the inaugural event and would like to thank Oi Oi Comedy and everyone at the hotel for their kind support.