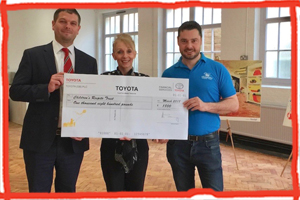 SLM Toyota's Group Director Jason Barlow and Marketing Manager Mel Ball came to the Children's Respite Trust recently to present a cheque towards the East Sussex Charity's new Uckfield Respite Centre.
Fund for a Better Tomorrow
The money was given as a part of Toyota GB's Fund For A Better Tomorrow initiative, in which individual dealerships are given the opportunity to support worthy local charities. Over 20 suggestions were put forward to the Uckfield dealership and we're delighted that the Children's Respite Trust was chosen.
New Kitchen
The money will be used to complete the kitchen at the Charity's new Respite Centre in Uckfield, where children will be able to join in with baking and other activities once it is fully operational.
Mel Ball commented that "the Trust does such important work for disabled children and their families across Sussex and beyond that we felt only too happy to contribute to the new centre, which will be a fantastic facility when it is finished."
The Charity's Chief Executive said upon receiving the donation "We're hugely grateful to SLM Toyota for choosing the Children's Respite Trust out of all of the nominations. We greatly look forward to now completing the Charity's new kitchen."
More Information
Keep tabs on the new Centre and the Trust's continuing fundraising effort
Find out about SLM Toyota's work