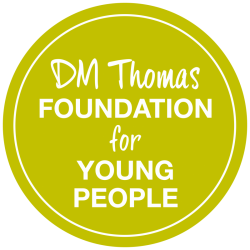 DM Thomas Foundation
The DM Thomas Foundation has a mission, that is to transform young lives. They do this by raising money to support a wide range of fantastic projects that help disadvantaged young people to Achieve It, Beat It, Live It and Experience It.
Thanks to support from fantastic people all over England, they are able to reach directly into communities and offer help where it is needed, partnering with smaller charities and organisations to help young people. They run a number of campaigns and have a busy calendar of events to help them achieve their mission.
They focus on supporting young people with disabilities, supporting employability and training programmes, enhancing the experiences of life-limited children in hospice care and supporting sick children in hospital.
The Foundation began life in 2000 as the Hilton in the Community Foundation. Since 2000 the Foundation has delivered a wide range of programmes, and through key partnerships and by providing funding, we invest in brighter futures for young people. In 2015 we changed our name to DM Thomas Foundation for Young People in honour of the dedication of our founding Trustee Dame Maureen Thomas.
The Grant
The DM Thomas Foundation has chosen the Children's Respite Trust as one of the charities that they are supporting with their grant scheme. They have awarded the Trust an incredible £8,140!! This wonderful amount will be used as part funding for the installation of the lift to the upper floor of the centre, which will house our Quiet lounge, a lovely warm and comfy space with a library and sensory corner. It will also be home to our Therapy room where children and parents alike can receive differing therapies to go alongside their respite care, and lastly it is home to our administration function and meeting room.
The DM Thomas Foundation are funding such an integral part of our development of the centre, and as the full lift installation is £21,500, we only have £13,360 left to find – of which we have put in applications to other Trusts and Foundations like the wonderful DM Thomas Foundation. This means the development of our centre is moving forward at a really great rate. We had planned the lift installation to the upper floor slightly later on in our project as it is such a large amount to fund – but with the success of this grant, and hopefully with more to come, we can really step up the development and be seeing results a lot sooner than expected! We would not be in this position without this grant, so a massive thank you to the DM Thomas Foundation.
The Future
We have invited the DM Thomas Foundation back to see us in September when we have completed the work, and we are opening our doors for day care services on the weekends and holidays. We cannot wait to show them the work that their wonderful grant has gone towards!
The Centre
For more information on the centre and its progress, please pop over to the East Sussex Children's Respite Centre page.
For ways to get involved with the charity, and join us on our incredible journey of opening our centre, please get in touch me, Keely Mouland via email on keely@crtcharity.org or call me on 01825 817417. I can help you with any questions, or fundraising ideas you have.