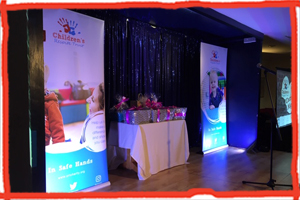 We are so very grateful to everyone who joined us at our Spring Comedy Night on Friday 13th March.
Thank you to our sponsors of the evening Crabapple Barn, Purebrite Cleaning Company, CBL Fastenings,J Kirby Electrical Ltd, and Acorns Charitable Trust. We are hugely grateful to Langney Sports Club for hosting the evening free of charge.
To Oi Oi Comedy Sussex and our Comedians Sol Bernstein, Danny Buckler, Del Strain and Compere Charmaine Davies thank you for entertaining us.
Congratulation to the winners of our Raffle. Thank you to Sarah Allen Skincare and Make Up, Amber House, Edwards Modular Controls, Uckfield Leisure Centre and Susie Pollard for their generous donations.
We are pleased to tell you that an amazing £2,469 was raised and we are extremely grateful to you all.
We would like to make a special mention to the Acorns Charitable Trust for their donation of £500 and to our Ambassadors Derek and Helen for their continued support.
We hope to see you at our Autumn Comedy Night later in the year. More details will follow in due course.