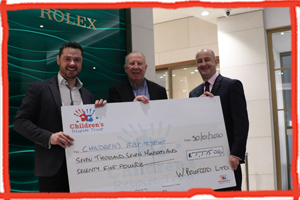 The Trust are very grateful to of W Bruford for the very generous donation recently presented by Ashley Pugh to Gavin Fisher.
The donation represented half of the total amount raised at W Bruford's "Moment in Time" dinner back in November. The other half being donated to St Wilfrd's Hospice in Eastbourne.
During the dinner, guests had an opportunity to preview this year's stunning Basel World 2019 releases from Rolex & Tudor and to bid on a much sought-after Rolex Professional model, donated by W Bruford.
An extremely generous bidder won the watch for £15,000 meaning an amazing £7,500 was raised for the Trust. Gavin met with both the winning bidder and Ashley and expressed his sincere gratitude for the amount raised.
We would also like to thank everyone else who donated the additional £337.50 making the total donation including gift aid a huge £7,837.50.
Our sincere thanks to everyone at W Bruford for their generosity and for allowing us to be a part of such an amazing event.