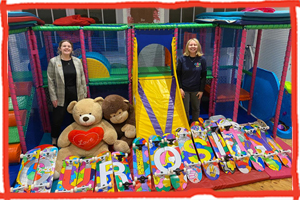 We are absolutely delighted to have been chosen by VEGA  in Uckfield to receive a generous donation of skateboards from their team building day organised by o3e. The team at VEGA put their skills to the test decorating, constructing and deciphering the hidden message. It's amazing to see organisations prioritising supporting the local community and giving back. Through out the day, their team took part in multiple activities each contributing something to different local causes.
We were honoured to attend on the day and deliver a small speech about what we do at the Children's Respite Trust and  share the impact of the donation. Some of the amazing benefits are:
Aiding motor skills, improving balance and working on coordination all while having fun. This is particularly important for our children as many of them need encouragement to work on these skills
It's an incredible way to build confidence trying something new and provides sense of achievement
Trying new things for children with autism can be really challenging but the opportunity to do this in a safe environment with carers they are familiar with can make it a lot easier
The skateboards will encourage children to be outside interacting with peers and adults which is so essential for development
An opportunity to build friendships over a new task without any pressure while supporting each other
Having a skateboard can also help reduce boredom. This is especially important for siblings that are at a higher risk for involvement in antisocial behaviour
And finally bring joy to children that lead very challenging lives
We are so excited to share the skateboards amongst the families we support. The boards will be distributed between the centre as well as gifted to individual families that will benefit most. We'd like to thank VEGA and o3e once again for choosing the Trust and we can't wait to share more about the fantastic impact of the donation following February half term and the next Sibling's Club.