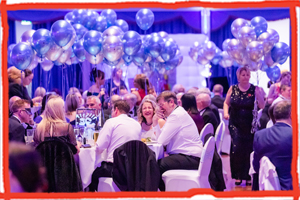 Wow, what an amazing night we had on Saturday at our Winter Masquerade Ball.
Thank you so much to everyone who joined us at the Ball on 6th November. We hope you had an incredible time. We are pleased to announce that the evening raised an astounding £54,568 and we are completely blown away.
The Night Begins..
Guests were entertained by magicians and stilt-walkers at a drinks reception in our ice bar served on walking tables. They were accompanied by the music of the Eastbourne College band while capturing memories event the event with NX Photos. Guests then entered the Winter Garden's newly refurbished banqueting hall to be greeted by a "Snow globe" performance and a game of heads and tails to win a Harrods Hamper kindly donated by Rightmove.
Dinner and Entertainment
After a delicious three course meal served up by the team at the Winter Garden's the entertainment carried on throughout the evening with winter masquerade performances from Cherry Dance and all ably held together by compere Michael Simkins.
The Trust's famous balloon raffle saw the room filled with 1200 biodegradable balloons, which guests burst altogether creating pandemonium. Those taking part had the chance to win over 40 prizes including Gucci Jewellery generously donated by W Bruford Jewellers, a Mercedes for the weekend from Lookers of Eastbourne, a stay at the Lansdown Eastbourne, kindly donated by Catherine Clifford.
Auction Success
One of the highlights of the evening was the live auction, which raised over £10,000 led by auctioneer Westley Waller. Auction lots included everything from a Perfume hamper and champagne meal at the luxurious Gravetye Manor to a meal at the exclusive Soho Farm with a flight to take you there and back. There was as always a meal in your home with a professional cook from Pauline Turner of Food for Comfort, a Wine Hamper kindly donated by the Athena Network and tasting experience from Karl Elwood Wine Selections. There were football and cricket packages, a rustic escape to Italy, a Taproom Tasting and so much more.
Masquerade Music
The night finished with Double Tap playing into the night, while others enjoyed the casino and igloo photobooth.
Thank You
Thank you so much to everyone who contributed to making the night such a success. Not least the following people:
Our incredible Winter Masquerade Ball Committee: Loreen McKeon, Shirley Price, Westley Waller and Kayleigh Da Silva. A special mention to Shelly, Loreen and Shirley who worked tirelessly to get so many prizes for the Gin Sleigh.
All of the amazing sponsors: Aspray, LMDB, McCarthy Webb, Yes Promo Products, West End, LSU Utility Solutions, NRG Commercial Finance, HPC Classics, SLP Accountants, Westways Vending, I do Wedding and Event Planning, Beautiful, Saxon Plants, Alexander Lloyd, LawlerDavis, Claire Nash Solicitors, W Bruford and Clearwater Safety Group.
Our compere Michael Simkins and our fabulous Auctioneer Westley Waller.
The relentless volunteers who helped both with setting up during the day and with all of the activities on the night. Including: Loreen, David and his crew, Rupert, Colin, Katie, Michelle, Holly, Emily and Rachel, Rachel and Esme, Jayde, Shelley and Sophie.
To all of the Trust's staff for their hard work. They also brough many family and friends to help – Janet, Julie, Harry and Umanga.
To everyone who provided entertainment on the evening, including our incredible band Double Tap. Also, East Sussex Circus School, Cherry Dance, Eastbourne College Band, Synthesize Events and Reece J Disco and Photobooths. To Printmatters for producing our Gin Raffle tickets and to Fran of Wiggles and Giggles Entertainment for the face glitter!
The portrait photography from NX Photo, PR photography from Matt Tench and videography by James Johnson from Picture Book Films.
A huge thank you to West End for all of their hard-work on the set and the audio visual installation. Also to Simply Beautiful Print, whose winter masquerade design and print was simply stunning.
Prizes
Thank you to everyone who donated prizes including:
Suttonz Tyres, Devonshire Care, Roots, Eastbourne, Ian Short, L3Harris, Lakedown Brewery, Kemp Pilates, Gravetye Manor, Essential Beauty, Hen Sidney, Printers Playhouse, Middle Farm, East Sussex Gliding, Three Acre Beers, David Byrne, Pauline Turner, Uckfield Picture House, Tennis in the Park, Athena Network, Elwood Wines, Cornerstone, Kamsons, Rajdoot Hailsham, Dom Dom, Café de Taz, Flowers of Eastbourne, The Cooden Beach Hotel, Eats and Treats, W Bruford Jewellers, The Lansdowne Hotel, Mercedes Benz of Eastbourne, Luke Wright, James Vince, Sussex Cricket Club, Aaron Connolly, Loreen McKeon, Food for Comfort, Kumi & Sam Hair and Beauty, Sovereign Centre, Nelsons Coffee, Urban Ground, Geko Nails, Georgio's Coffee House, Contour Cosmetics, Taboo, Life, Work, Balance, The Faerie, The Kube, Fitfab Mama, Horsted Heath Club, the Hydro Hotel, Chatfields Jewellers, Lakeland, Brighton Zip Wire, Suzi Smith Racing, The Gun Brewery, Creams of Eastbourne, Days Out Sussex, The Dolls House and Rightmove.
Also to everyone who donated towards the amazing Gin Sleigh:
Hollywood Gin, Brighton Gin, Boë Gin, Skerretts Consultants, Coombes Club, Thunda Vodka, Tiger Gin, Cotswolds Distillery, The Only Way is Gin, Gallybird Tonics, Harley House Distillery, Wexham Park, Herky Moo Barbers, Cricketers Gin, Gin and Jones, Bombay Saphire, Loch Associates, Orange Beach Bar, Sainsbury East Grinstead, and Tesco Uckfield.
A big thank you goes to our hosts the Winter Gardens, Eastbourne for all their hospitality.
Next year's Masquerade Ball will be held on Saturday 5th November. If you are interested in sponsoring the event please contact Rachel on rachel@crtcharity.org