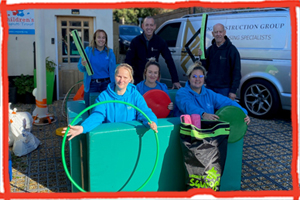 We are delighted to be able to start work on the new sensory room at the Children's Respite Trust Centre in Uckfield.
The Trust has been raising funds towards the work that needs to be carried out since the annual Masquerade Ball and so we would like to thank everyone who has contributed including the many people who made pledges at the Ball itself. DG Construction (pictured) donated several items including a bubble tube, padding, interactive wall panels and even a ball pit.
Others who have contributed significantly include Holmewood House School in Tunbridge Wells, LawlerDavis Financial Planners and the Uckfield Lions Club. Work involved includes some building work to the room itself before the installation of equipment can begin.
When finished, the room will be full of colour, controllable lights and textures to stimulate the children's senses. Sensory play encourages learning through exploration, curiosity, problem solving and creativity. It helps to build nerve connections and encourages the development of language and motor skills.
The Trust's mobile sensory unit will remain an important feature for use elsewhere in the Centre. However, when complete, the sensory room will be a wonderful addition to the Centre ensuring the children's stimulation and enjoyment.
Our thanks go to everyone who has made possible the sensory room at the Children's Respite Trust Centre in Uckfield. We look forward to welcoming the children in to see the finished result soon.