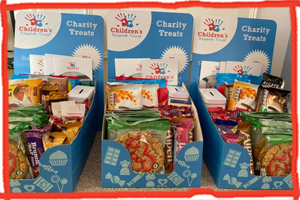 Over the last couple of years the Trust has been very grateful to receive support from Applegreen Garage, Uckfield by way of chocolate and sweet donations.
Customers of the garage are able to purchase and donate items to the Trust for use at the Respite Centre and within our Treat Boxes.
In addition to this support, Applegreen also sponsored our Firework Ball in November and hosted a table at the event.
Not only have the Treat Boxes generated an extra form of income for the Trust but they have enabled us to form relationships with local schools, (depending however upon the treats and sweets available as often they include nuts) football teams and businesses in the local community.
Since Applegreen began donating treats to the Trust in 2021, an incredible £3,748 has been raised for the Trust.
The Trust believes that no family should be left to care for a disabled child alone and we support many families throughout Sussex and Kent by offering respite care at our Centre in Uckfield and also in their own homes. One Support Worker, working one day per week would cost the Trust approximately £5,000 per annum and means we can care for an extra 2/3 families each week.
The money raised by Applegreen and the local community has enabled us to help more families and raise awareness for the Trust and for this we are extremely grateful.
If you would like a Treat Box in your staffroom or on your business counter, please do not hesitate to contact us on info@crtcharity.org and we will arrange to deliver this to you in the New Year.