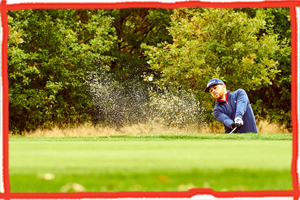 Thank you so much to everyone who helped make our Golf Day a swinging success together with Simple Safety Advice.
We're delighted to report that so far, the socially-distanced event has raised a phenomenal £8,000. I say so far, because the auction remains open until Friday. If you haven't had a chance to check it out, pay a visit to https://www.crtcharity.org/golfday.
Thank you also to everyone has so kindly donated towards our raffle. You can check and see if you have won a raffle prize at https://www.crtcharity.org/golfday.
The guys at Sweetwoods did an amazing job to give us a great course to play and excellent hospitality and hopefully most of you got round before the worst of the weather. Many of you attempted to beat the pro at trickshots, so thanks to the incredible Ady at ACE Golf Challenge and also to the guys at Clubs Away for running the electronic scoring and Trackman.
And so to the winners…
Many congratulations to:
1st Placed Team: Tileex – Gary Hollingdale, Dave Hollingdale, Bobby Ditch and George Penny
2nd Placed Team (on Countback): Ken Harris & Sam Nicholson from Endeavour Construction, and Doug Burridge and Scott from Kings Langley Scaffolding
3rd Placed Team (on Countback): The J&L Coster crew – Ken Alborough, Nick Bailey, Justin Ballard and Rhys Piper
1st Placed Individual: John Bell (44)
2nd Placed Individual (on Countback): Sam Nicholson (43)
3rd Placed Individual (on Countback): Ky Oliveira (43)
Congratulations also to Steve Burgum, Bobby Ditch and Talal Sadiq also on 43 who just missed out on countback. It was exceptionally tight at the top.
The Longest Drive was won by Bobby Ditch from the Tileex team and the nearest the pin was was won by Gary Brown from Surrey National team.
A massive thanks go to all of our amazing hole sponsors without whom, we wouldn't have been able to reach the fantastic total raised:
Trackable Safety, The Tiny Box Company, Soil Science, Simple Safety Advice, Brewin Dolphin, SDS, Roselands Heating, Plugged Golf, Oxley Asphalte, Havenscroft, GP Plumbing, Golfguard, Golf Base, G Baker Roofing, Fast Fix Scaffolding, Challis Builders, Bellcom Communications, Able Force and David Haskoll Insurance.
Finally, a massive thanks goes to James, Kirsten and all the team at Simple Safety Advice. I'm sure that you all know what a tough time it has been for charities lately. This has been our first physical fundraising event since before lockdown and it is unlikely that we are going to be able to hold any others for some time. It was therefore absolutely vital that we made a success of this and what a success it was. This will really help us to keep the Children's Respite Trust going through these tricky times and ultimately it will make such a difference to our ability to help families with disabled children.
Thank You!